Energise Otaki Solar Farm is a renewable energy project by Energise Otaki, a charity developing and implementing energy awareness, efficiency, and microgeneration projects since 2011.
It embarked on the Otaki solar farm proposal in 2015, working with experienced industry specialists who volunteered their time for feasibility modeling and technical design.
In July 2019, it received 408k grant funding from the Wellington Community Trust to install a 25kWp roof-mounted solar PV system on Otaki College, and a 108kWp ground-mounted solar array at the Otaki wastewater treatment plant, with power purchase contracts, negotiated with Otaki College and Kapiti Coast District Council at behind the meter commercial rates.
The main challenges were getting key stakeholders over the line, made possible through building a positive track record through other local energy projects. It was also helpful in having a well-aligned team with a coherent plan.
The systems are owned and operated by Energise Otaki. Project revenues go to the Otaki Community Investment Fund, which will focus on alleviating energy hardship, sustainability education, and local employment in the energy industry.
The Otaki solar farm projects are: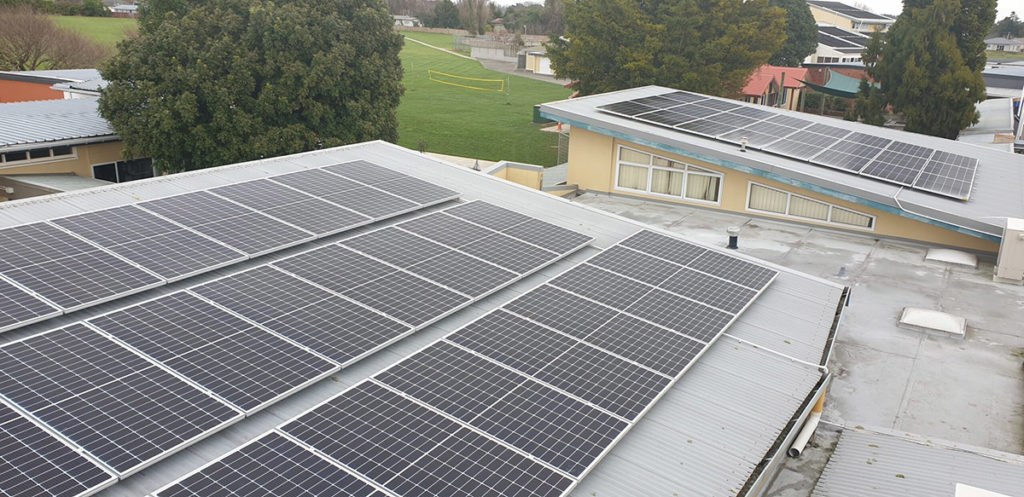 Ōtaki College
Roof-mounted solar array on College buildings.
52 photovoltaic solar panels (total of 23.1kWp) with one 20kW inverter
There is an agreement with Ōtaki College for the locating of the panels on their site.
This system is in addition to already existing arrays on the Administration Block funded by Pub Charity and Philip Foundation and administered by XŌtaki Alumni, which generate approximately $6k in scholarships/year.
Wastewater Treatment Plant
A ground-mounted solar farm facing north at a 25° angle
240 photovoltaic solar panels of 445W each (total of 106.8kWp) with four 3-phase Fronius Symo 80kW inverters.
There is a lease with KCDC for the land being used for the solar farm.
Monitoring services will allow us to remotely track
Total generation and performance information
Tracking of carbon savings
Revenue grade metering